The Orthodox Church in America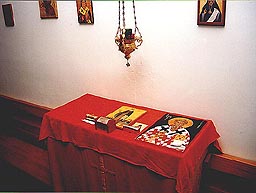 The Archdiocese ot Canada is part of the Orthodox Church in America (OCA). Our Archbishop, His Eminence Irénée of Ottawa and all Canada, is a member of the Holy Synod of Bishops of the OCA. The Primate of the OCA is His Beatitude Tikhon, Archbishop of Washington and Metropolitan of all America and Canada.

The first Orthodox communities in North America were founded by Russian missionaries in Alaska, over 200 years ago. In 1970, the autocephaly (self-governing status) of the OCA, as daughter and successor of the original Russian mission and administration, was officially recognized and affirmed by the Russian Orthodox Church.

Today the OCA has thirteen dioceses and almost 600 parishes found throughout Canada, the United States and Mexico. The OCA is a member of "The Assembly of Canonical Orthodox Bishops of the United States of America" and works together on international, national and local levels with Russian, Greek, Antiochian, Serbian, Ukrainian and other national Orthodox churches.

The OCA is committed to theological education. It maintains three seminaries: St Vladimir's (New York), St Tikhon's (Pennsylvania) and St Herman's (Alaska). Canadian students have recently been enabled to study in Canada at St Andrew's seminary (Ukrainian) in Winnipeg Manitoba. Several of this centuries noted theologians have been deans of our theological schools: Frs Georges Florovsky, Alexander Schmemann and John Meyendorf (St Vladimir's), and the holy Bishop St Nikolai of Zica (St Tikhon's).